Covid 19 Update
You may still observe the Sabbath from home via televised Mass (La Crosse, Channel 19, at 9:30 a.m. Sunday) or online at https://diolc.org/sacredworship/televised-mass/ 
All Mass intentions currently requested will be prayed for during my daily Mass. If you have requested a mass on a certain date that you do not want offered during the private mass please contact Melissa to reschedule it.
St. Peters Parish will be open for private prayer on Monday (6:00-7:00 pm), Wednesday (7:30-9:00 pm), Friday (10:00 am-12 noon), Saturday (3:00-5:00 pm) and Sunday (11:00-12:00 noon) each week.

  You may come and pray silently at this time, please keep in mind social distancing of at least 6 feet and do not exceed 10 people in the church at one time. To schedule confession please contact Fr. Biju personally.
The bulletin will continue to be published weekly and available for viewing on our Website. There will be a few hard copies printed off if you would like to pick one up at the above times. If you are not able to view our bulletin online please contact the parish office.
Mass cancellation and open church for prayer will take effect March 20th until further notice.  Please remain fluid and understanding during this time, we will do our best to keep you updated.
Financial Giving
Please support your parish in these hard times by clicking the link below.
Mass Times
WEEKEND MASS SCHEDULE
Saturday………………………….……………8:00 PM                Sunday………………………….…….…….10:00 AM
WEEKDAY MASS SCHEDULE
Wednesday and Friday..…………………..8:00 AM
ADORATION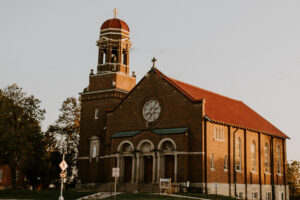 Wednesday…………………….7:30 PM to 9:00 PM
ROSARY
Sunday Before Mass & Wednesday at     Adoration
CONFESSIONS
Saturdays…………………………………..…7:30 PM
Wednesdays during Adoration
& By Appointment
About Our Community
St. Peter's Catholic Church is nestled atop one of the many ridges in the coulee region. The self-proclaimed "Jewel on the Hill" has a rich history and represents a welcoming community to her members. This breathtaking church was officially opened in 1899. Before that time, the area was considered a mission of nearby St. Joseph's Ridge. A mission school operated in Middle Ridge for nearly 10 years before St. Peter's Parish was established and continued to operate in the basement of the church until St. Peter's School of Middle Ridge was built in 1908.
The church was given the name of St. Peter, dedicated to the Prince of the Apostles. St. Peter's Church has been cited as one of the finest structures ever erected by any comparable size parish throughout the nineteen counties of west central Wisconsin which now make up the Diocese of La Crosse. The cornerstone of the present-day church was laid in 1920 and the Church was open for worship on Palm Sunday of the following year. The brick and cut-stone building dominates the immediate countryside of Bohemian Valley and Dutch Creek, but it's bell calls worshipers from miles away.
This antique beauty is home to a vibrant community of young and old alike. It hosts an annual "Sauerkraut Supper" every October, and is known for the home-cooking of that community event.
Next time you happen to drive by this Jewel on the Hill, stop and take a moment to appreciate the beauty of the scenery, and thank God for His handiwork.
You are welcome here.